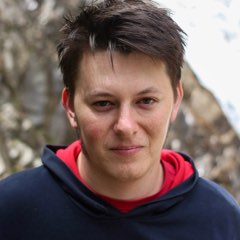 Michael Romanenko
Full-Stack Software Engineer, experienced in Web and Mobile development. I love taking pride in building simple, beautiful products that create value for human beings.
I'm deeply committed to the idea of responsible technology and interested in learning from effects of emerging tech innovations and how it amplifies processes around us. Giving back to local community by co-leading Facebook Developer Circle: Bishkek
Reach me at michael@romanenko.kg or Telegram @romanenko.
Speaking
Writing
Things I've been working on lately
Snaper — Posts for SnapChat

The 1st App for engaging SnapChat followers in Topic-oriented discussions. Finalist of TechCrunch Disrupt Hackathon 2019.

I've developed Mobile App, implemented the SCSDK -> ReactNative integration and created Web Service to engage participants to join discussions in Snaper!

Technologies: React Native, Swift, Java

EZFix Mobile Application

Developed mobile applications for innovative remote mobile-first insurance company based in Saint-Petersburg.

Customer-facing application provides convenient UI to buy insurance for car tyres, call a specialist in case of emergency and use repair service. Application for managers has tools to list insurances, respond to repair requests and provide great service for customers.

I took active part in full software development cycle for iOS and Android, worked on solving challenges managing growing complexity, and code sharing between client-facing and business-facing applications.

Technologies: React Native, Node.js

Oscar Chatbot

Chatbot for Facebook Messenger to address global waste problem with the power of local communities.

I took part in implementing backend service to recognize types of packaging and provide recyclability results to the user. This submission entry was made for F8 2019 Hackathon (1-3 May, San Jose, CA)

Technologies: Node.js, Google Vision API

Shipper

Web application for the logistics startup company to provide users parcel delivery, with convenient tracking tool.

Technologies: React, Next.js, Node.js

"Family Traditions"

Set of software solutions for a large healthy food brand: Web, iOS and Android applications to promote company's products and provide loyalty program for customers. Mobile application has a Scanner feature to guide users through the company's products, while shopping on-site.

Technologies: React, React Native, Node.js

Projects for "CENTER" Agency

"CENTER" Agency is an expert company, that generates new ideas for cities and regions, to serve and benefit business, authorities and local residents.

I've been in charge of all web development process since 2014: as a manager and leading Front-End Developer, starting with company website and many projects:

Technologies: React, Next.js, Node.js, PDFkit, AWS, Ruby on Rails

App for Ministry of Transportation of Kyrgyz Republic

Developed a cross-platform desktop application to monitor live road traffic cameras. Created a convenient interface to search large, realtime DB of events. Enhanced effeciency of ML-enabled license plate recognition software and hardware components.

Technologies: React, Electron, Node.js

Trackcha

Music recognition Web Application. Was built for RailsRumble hackathon by ZeroOne team. The goal of the app is to provide a list of all music tracks playing in any given video.

I'm currently rewriting the app from the ground up on the serverless architecture to provide better user experience, accessibility and reduce server costs. Working beta is available.

Technologies: React, Node.js, AWS

"French Kiss" Mobile Apps

Promotional iOS and Android Mobile Application for a large chain of bakery-cafés. (in Archive)

Technologies: React Native

"Zero.One" Website

Digital Agency website to showcase design portfolio. It has a grid of thumbnails with clever gallery, with many nitpicky details.

Technologies: React, Node.js

BOSTI

Technologies: React, Node.js, Ruby on Rails

Architecton +

Technologies: React, Ruby on Rails

ENETIL — Kyrgyz Language in Google Translate

Developed a software solution for initiative of bringing Kyrgyz language to Google Translate.

We've created a platform to process large texts, extract meaningful data from them and provide tools for volunteers to create collocation pairs. Worked in contact with Google to collect and submit necessary localization data.

Technologies: JavaScript, Ruby on Rails, MongoDB

Other fun experiments
Press